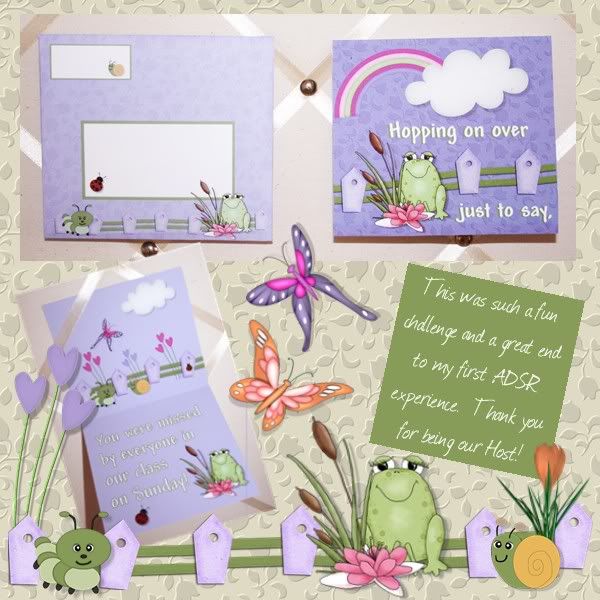 Designs By Abbe Reward Kit for Material Girl Challenge - Glorious Spring
LO B/G Paper, Orange Butterfly, Frog, Cloud, Rainbow, Orange Tulip, Fence
Designs By Abbe Reward Kit for Quote Challenge - Spring Garden
Card B/G, Purple Butterfly, Heart Flowers, Caterpillar, Snail, Lady Bug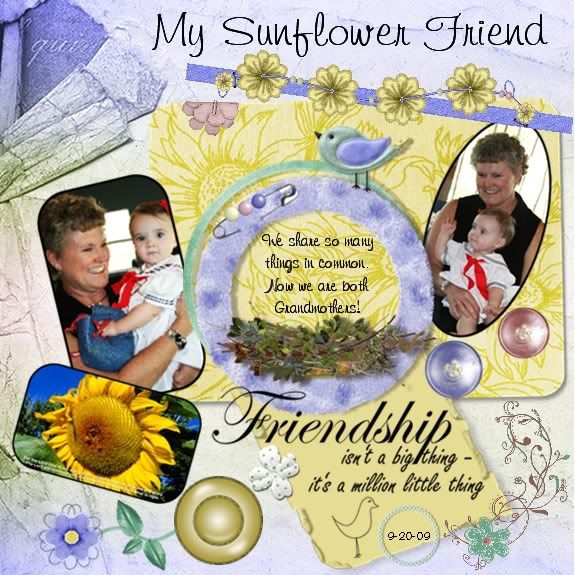 Journaling: We share so many things in common. Now we are both Grandmothers!

All items are from DECO CLUB KIT MARCH 10-MY SISTER, MY FRIEND
B/G Paper, Journal Block, and Flowers on String by Deb Ammerman
Bird, Bird Nest, Flower Doodle, and Circle Ring filled with Paper6 by Digiscrapthat
Sunflower Paper, Blue Ribbon, and Gold Button by RoseMadeDesigns
Fur Circle Ring, Pink and Blue Button, and Blue Flower by Sharon Signature Scraps
Folded Flower and Circle Frame around date by Waite For the Moment Designs
Friendship Word Art by Cornelia Design
Quadirah (Sonogram just received of newest grandchild)
Precious baby, all brand new,
a welcome to the world to you.
May life be filled with joy and love
from those on earth and God above.
May you be blessed with friends & health,
which truly is your greatest wealth.

Lajuana (aging Aunt Allie Rae great-aunt to my DGS Luke and DGD Avery)
Our beloved Aunt Allie Rae is 91 and has had some health issues the past year. We know she won't be with us much longer. Watching her grow weaker is so hard, but this precious time together is making our circle grow stronger!

Background Paper and White Circled Flower Frame - Where Fairies Reside by KiKeKa Kits
Word Art Circles and Heart Frame - scrapladyandmore
Bird House, Bird, Feather, and Daisy from "Hope Album and Mini Kits for Haitian Relief Fund" by Lori Staton-Passion4DigiScrap28-mini-Kit contribution
Wreath with Vine from DECO CLUB KIT JULY 09-TEDDY BEAR PICNIC by IcePrincessScrapz
Musical Notes from DECO CLUB KIT MAY 09-TURN THE MUSIC ON by Lori Staton-Passion4DigiScrap28
My "PAINT" is the Paint Brush and the edges of my Photos.
7 more from this list:
1) swirls - Blue Swirl from My Girl Scrap Kit by Designs by CAZ (recolored)
2) glitter - Filled Title using Glitter Paper from DECO CLUB KIT DECO9-BLACK VELVET by Passion4DigiScraps
3) something metal - Paint Splatter from PreSkool by Deb Ammerman (I added blue edge)
4) stitching - Stitched Arrows from DECO CLUB KIT SEPT09-SEW MANY APPLES by Deb Ammerman
5) patterned paper - B/G Paper from PreSkool by Deb Ammerman
6) funky font - Mailart used for Luke & Avery's Names
7) journaling - Nana is so glad that you both like to paint using the easel Papa & Nana gave you for Christmas!

Additional Credits: Curled Paper Border and Blue Paper from PreSkool by Deb Ammerman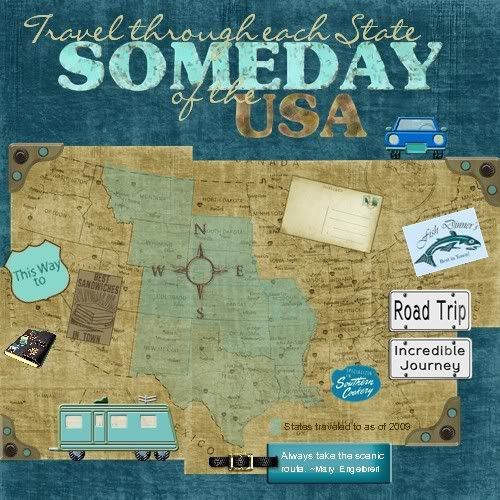 Journaling:
I was surprised how many States we had traveled through when I started adding the highlights to the map!
We traveled over 4,000 miles in October 2008. This photo taken at Mt. Rushmore was one of the very few photos we have with us in it!

I have tons of scenic photos of all our trips...have promised myself I will take more next time with one or both of us in it! Seems we keep going through the same States...we will have to head East or West if we want to get to the other States...lol!

DECO CLUB KIT JULY 07-JOURNEY TRAVELED
Background Paper and Sections of USA papers by RoseMadeDesigns
Compass, post card, and 4 brown and 1 tan wooden studs by Designs by CAZ
Leather Travel Journal and List Paper by Deb Ammerman
Photo Corners by Burkhart ScrapZone Designs
Suitcase tag and License Plates by Mary Ridgeway
Car, Motor Home, and Food Signs by Paris Designs
State shapes by Dana Conditt
This Way To Sign - by Lorene Hill
CHALLENGE 7 - Bucket List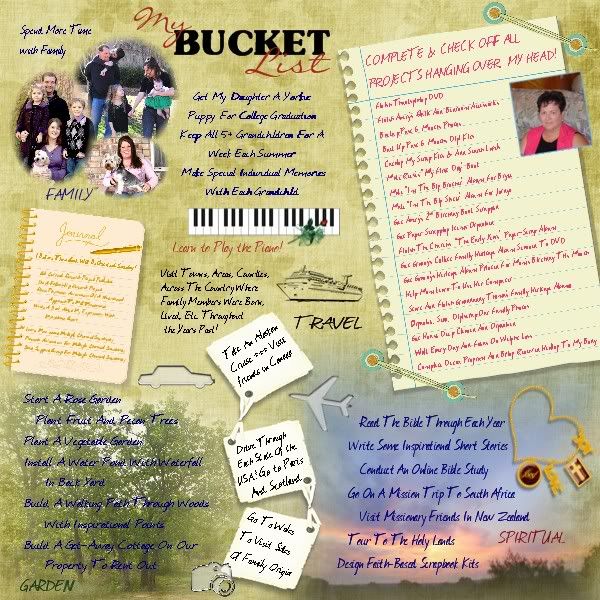 CREDITS:
DECO CLUB KIT FEB 08-TOTALLY GRUNGY
Background Paper – RoseMadeDesigns
DECO CLUB KIT APRIL 09-WORKING FOR LIVING
Note Paper, Envelope Tie – Burkhart Scrap Zone
Journaling Boxes – Paris Designs
DECO-CLUB KIT JULY 07-JOURNEY TRAVELED
Car, Plane, and Camera – Paris Desings
DECO CLUB KIT MAY 09-TURN THE MUSIC ON
Keyboard with Rose – Lori Staton
Cruise Ship – At Sea by Tom Williams
Charm Holder and Charms, Journal Notebook and Pen – Lord With Us by Theta
HANGING OVER ME LIST:
1. Finish Thanksgiving DVD
2. Finish Avery's Quilt And Bedroom Accessories
3. Backup Past 6 Months Photos
4. Back Up Past 6 Months Digi Kits
5. Catalog My Scrap Kits & Add Search Labels
6. Make Reese's "My First Day" Book
7. Make "I'm The Big Brother" Album For Bryce
8. Make "I'm The Big Sister" Album For Jordyn
9. Get Avery's 2nd Birthday Book Scrapped
10. Get Paper Scrapping Items Organized
11. Finish The Church's "The Early Years" Paper-Scrap Album
12. Get Granny's Collett Family Heritage Album Scanned To DVD
13. Get Granny's Heritage Album Printed For Mom's Birthday This Month
14. Help Mom Learn To Use Her Computer
15. Start And Finish Granddaddy Thomas' Family Heritage Album
16. Organize, Scan, Digiscrap Our Family Photos
17. Get House Deep Cleaned And Organized
18. Walk Every Day And Focus On Weight Loss
19. Complete Detox Program & Bring Renewed Healing To My Body Through Nutrition
FAMILY LIST:
20. Get My Daughter A Yorkie Puppy For College Graduation
21. Keep All 5+ Grandchildren For A Week Each Summer
22. Make Special Individual Memories With Each Grandchild
23. Spend More Time With Family
24. Learn To Play The Piano (Something I have said for years I wanted to do by the time I am 65. I have learned beginner steps, but have a long ways to go!)
TRAVEL LIST:
25. Drive Through Each State Of The USA
26. Visit Towns, Areas, Counties, Across The Country Where Family MembersWere Born, Lived, Etc. Throughout The Years Past
27. Take An Alaskan Cruise
28. Visit Friends In Canada
29. Go To Wales To Visit Sites Of Family Origin
30. Go Paris And Scotland
JOURNAL LIST:
31. Get Current Research Project Published
32. Do A Follow-Up Research Project
33. Write A Book About My Experiences With Myasthenia Gravis
34. Raise Physicians Awareness Of A Nutritional Approach To Mg Treatment
35. Learn Everything I Can About Multiple Chemical Sensitivity
36. Promote Awareness For Multiple Chemical Sensitivity
37. Start Support Group For Multiple Chemical Sensitivity
GARDEN LIST:
38. Start A Rose Garden
39. Plant A Vegetable Garden
40. Plant Fruit And Pecan Trees
41. Install A Water Pond With Waterfall In Back Yard
42. Build A Walking Path Through Woods With Inspirational Points
43. Build A Get-Away Cottage On Our Property To Rent Out
SPIRITUAL LIST:
44. Read The Bible Through Each Year
45. Write Some Inspirational Short Stories
46. Conduct An Online Bible Study
47. Go On A Mission Trip To South Africa
48. Visit Missionary Friends In New Zealand
49. Tour To The Holy Lands
50. Design Faith-Based Scrapbook Kits
The only picture I had of me in the last year was this one when DGD Reese was born....so, I went back and got this picture of when Reese's mom was born. I was 31 years younger in it than I am now...wow, time flies! This was a good challenge for me...first cluster type LO!

Have A Heart - Designs by CAZ
2 papers (Corner Cluster Paper & Purple Linen Paper)
Buttons - 4 (Green Button with Purple Thread)
1 of 2 Heart shapes - 2 (Purple Heart Hanging from Twine Wreath)
Ribbon - 2 (Gold Stitched Ribbon)
Flourishes - 2 (Paisley Purple Green Flourish)
2 of 4 Metals - 4 (Gold metal Flower)
More Shabby Love - Designs by CAZ
2 of 4 Metals - 4 (Swirl and Cross)
Flowers - 4 (2 Green Daisies & 2 Purple Daisies)
Hearts and Flowers - Designs by CAZ
1 of 2 Heart shapes - 2 Purple Heart in Corner of Top Photo
On Black One - Designs by CAZ
Leaf//Leaves - 2 (Green Sparkle Leaves & Purple Sparkle Leaves)
Glitter/Bling - 2 (Sliver Splatter & Green Sparkle Overlay)
DECO-CLUB KIT OCT 09-IT'S A JUNGLE OUT THERE
String / Twine - 2 (Twine Wreath with Bow - Ice Princess Scrapz)
These are chocolate candy and mints made for special occasions. Man am I ever craving chocolate right now....lol!
*Flower – Greeting Card Challenge Starter Kit by Lori Staton
*Tag and *Button – Hearts and Flowers by Designs by CAZ
Leaves – Fall Festival by Digiscrapthat
Indulgence Deco Club Kit July 08
*2 Papers by Kathie Woolery
*Alpha by Kathie Woolery
Chocolate corner (top) by Carolyn Rupley
Chocolate corner (bottom) by Designs by CAZ
Chocolate flower by Designs by CAZ
Puppy Love Letters-Deco Club Kit February 09
*Heart Frame by Carolyn Rupley
Be Mine & Pink & Yellow Heart by Deb Ammerman
Sweet Beginnings-Deco Club Kit April 07
Arrow by Designs by CAZ
Baby Bottle and Buggy by Mary Ridgeway
Ever After-Deco Club Kit May 07
Wedding Bells and Cake by Deb Ammerman
CHALLENGE4
Here's my 2 ATCs...Qadirah is making 2 and we'll combine them into one preview for this challenge. It will be posted on the Home page! You can also view it here!
Love the fact that this challenge led to me journaling for Jordyn how special she is to me.
(Click for Large View)
Journaling
This is one of the first picture I saw of you. It was taken the weekend you, Bryce, and Dad went to the State Fair with Tonia. Since then, you have become my new GRANDDAUGHTER and it has been fun getting to know the little girl behind this mask!
One of my favorite memories so far is the day Reese was born and you came to the hospital to see her.
We had not gotten to spend much time with each other at this point. Even so, when you saw me you ran up to me, jumped in my lap, and gave me a big hug!
All Items from DECO CLUB KIT MARCH 08 - "WILD THING"
Blue B/G Paper - Deb Ammerman
Lion Print Paper and Lion and Cubs sticker - Burkhart Scrapzone Designs
White Tiger - Passion4DigiScraps
Flowers - Paris Designs
Paw Note Pad - Tom W Dillion II
Date Stamp - made using RoseMadeDesigns Alpha and Paris Designs cage
Journaling highlights - filled print with B/P by Cyndi Waldmann
This was quite the "challenge" for sure...but I got all the steps done.
I have never used so many fonts on one page before...it was fun playing with them and I loved the English111 Presto BT font I used for "I"
I washed the tablecloth and the gold paint faded...so disappointed. DD paper scraps and does an amazing job with her journaling...thus she got elected to write on the tablecloth. She lives out of town and I didn't dare try to print on the table even following what little still shows...that's one reason I like to digiscrap...lol! Here's a closeup of the tablecloth with what I added above the faded part...just wanted to be above board with you!
Ok...we have talked about 2 hours on the phone...learning even more about each other and brainstorming. Now off to find a LO to scraplift...there are so many awesome LOs to choose from in Qadirah's gallery. Be back later with my LO for this first challenge!
Here it is...love this month's Club Kit and one of the pictures Qadirah sent me was so perfect to use with the kit!
A name on my computer screen...one that I had never pronounced
out loud but I knew it well!
Qadirah and I are both CT Members at Deco-Pages. From her LOs and comments there, I learned that she had a very sunny and upbeat personality... that she has some wonderful children and some adorable grandchildren. That's one thing we both have in common. Once we started this challenge, we discovered that we both began our digital scrapping adventure at Deco-Pages and joined within a month of each other. We have since also learned that we both have worked in large Texas cities...she in Houston and I in Dallas and that we both have worked for oil and gas companies.
And without a doubt we are both addicted to digiscrapping...it's
t
herapy for whatever ails ya!
Happy Thanksgiving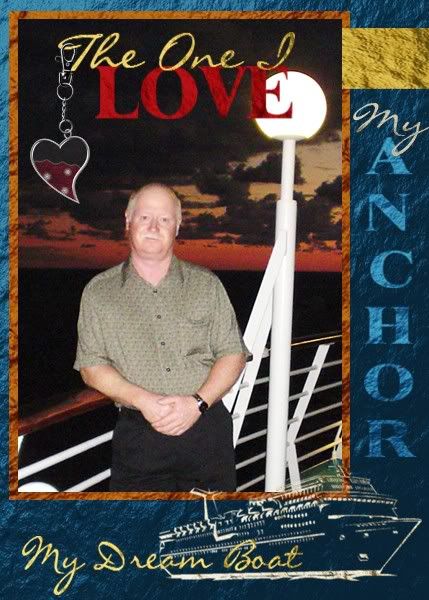 The One I Love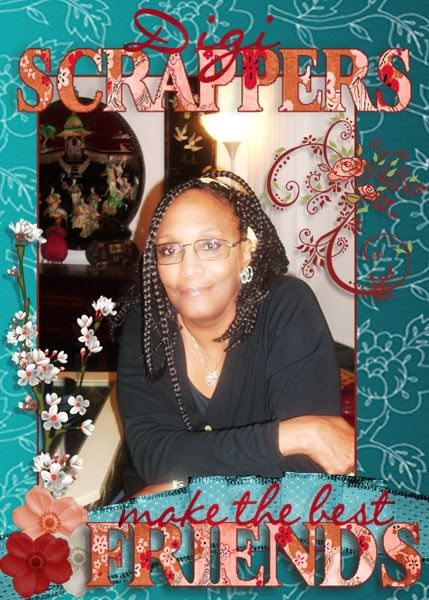 ATC CARD -QADIRAH
My ADSR Partner